With Cinamaker, Anyone can be a Director
Click to see how we're connecting the world, one video at a time
For Worship
Religious Services
Sundays are made for Cinamaker. Worship organizations around the world are using Cinamaker to get the Word out.
Birmingham United Methodist Church (BUMC) uses Cinamaker on their iPad to live stream from the pulpit and the bandstand.
BUMC uses up to 4 iOS cameras, audio direct from the house board, and presentation software from an adjacent Mac, to live stream weekly to their Facebook page.
"Great value"
"We use Cinamaker for all Shabbat worship services which we either live stream or Zoom. Our congregation appreciates the convenience,  quality, and the price can't be beaten".
-Temple Sinai, GA
Cinamaker for Mac M1
Jesus, the Good Shepherd Parish, of Riverside, NJ, live streams and records using Cinamaker Director Studio on the MacBook Pro M1.
With three (3) iPhone 11 Pro cameras, the director can pan-tilt-zoom using the Crane M2 Gimbal while operating Cinamaker.
And connects all Cinamaker devices wirelessly using the Amplifi HD WiFi Router by Ubiquiti Labs.
Meetings & Webinars
Virtual & In-Person
As your business adapts under a global pandemic, Cinamaker enables you to simply and affordably output to Zoom, MS Teams, WebEx, and other meeting platforms, and live stream to Facebook, YourTube, and more.
Output your multi-camera, multi-media meeting, webinar, events, and more using Cinamaker and treat your virtual attendees to a memorable experience.
With the Cinamaker Virtual Webcam & Audio driver, you will seamlessly output your Cinamaker sessions to Zoom, MS Teams, Webex, Skype, and other popular online meeting platforms.
Meetings & Webinars
Virtual meetings and webinars are enhanced with multiple camera angles, photos, video, graphics, and more. Enrich the experience of your attendees, while elevating your brand.
For Performance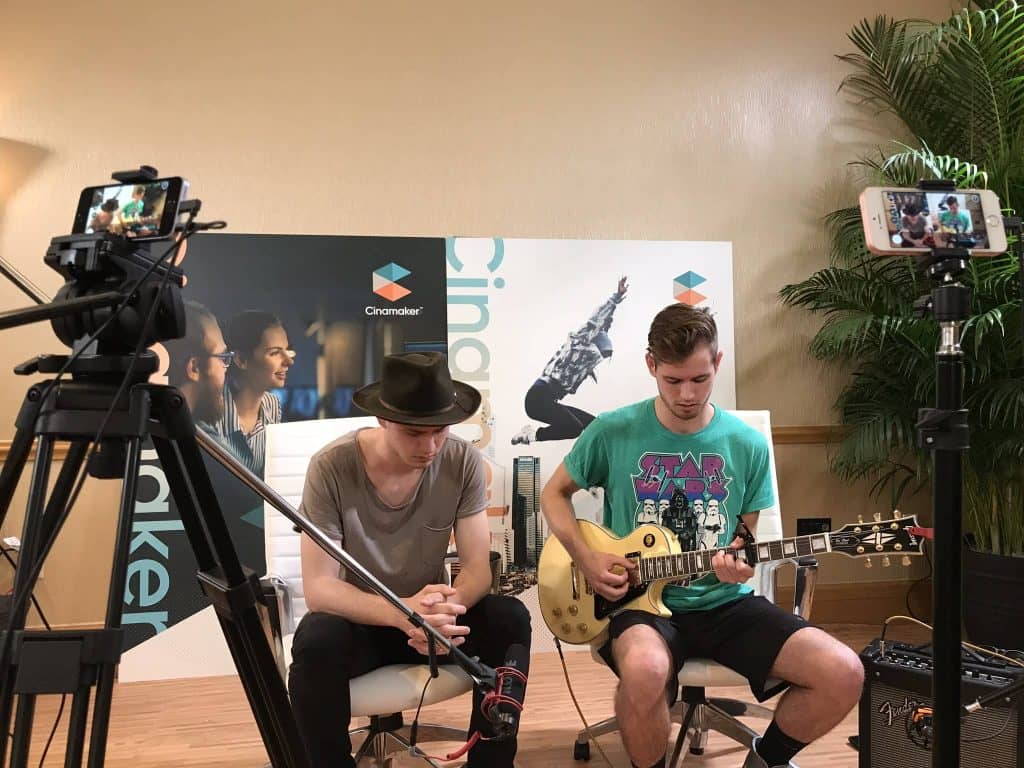 Level-Up Your Production
With multiple audio inputs and camera angles, now you can perform from anywhere and give your fans the level of quality they have come to expect.
John Kay (from Steppenwolf) performs from the Lobero Theatre, Santa Barbara, Ca.
Recorded with Cinamaker on the Mac using 3 iPhones and one Sony a7R II digital camera…
the 75-minute set was edited with Cinamaker's in-app editor and sweetened in Final Cut Pro X. Audio was mixed using the house board and sent via USB to Cinamaker Capture.
Jam In The Van
"Cinamaker has enabled us to live stream our sessions in a way that matches the high-level aesthetic that our viewers have come to expect. "
-Jake Cotler, Jam In The Van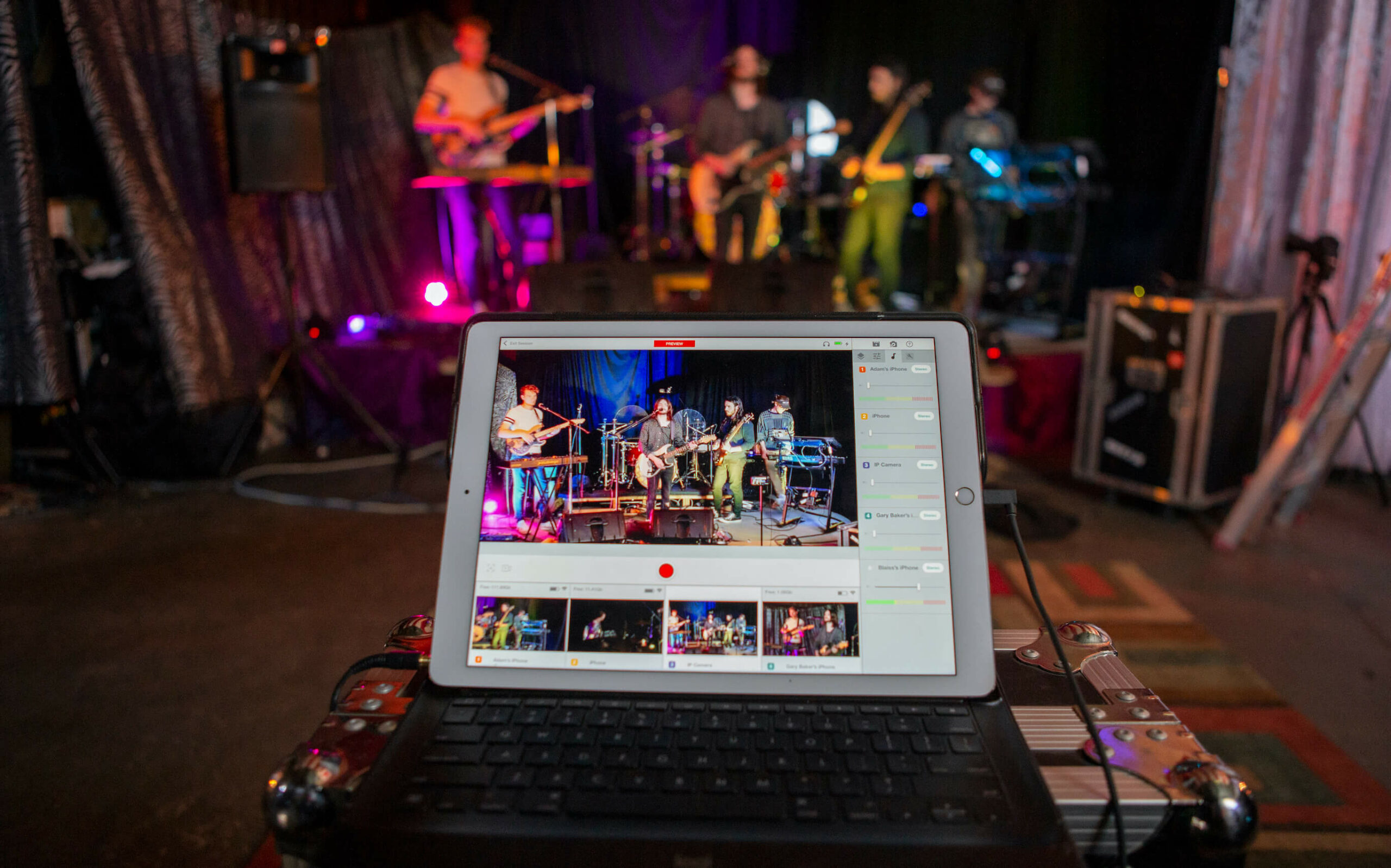 When the global pandemic became a new way of life, musical artists found Cinamaker to be a simple way to get the music out. Pulling together their iPhones, iPad, and a Mac, the band Glitterfish created a live streaming and video recording studio in a day.
For Live Events
Virtual or In-Person
Cinamaker makes virtual and in-person events and conferences more engaging with multiple camera angles, multiple audio sources, graphics, and media in one simple live tool.
Live stream your events to Facebook, YouTube, and any RTMP destination. Or output your live event to Zoom, MS Teams, Webex, BlueJeans, and other meeting platforms via Cinamaker's Virtual Camera and Audio driver.
For its annual Social Video & Live Streaming Summit, Trender Research utilizes Cinamaker for live streaming its 6-hour event.
Three (3) iPhones and one Sony DSLR camera are used to cover panelists, meeting hosts, and attendees. Audio is sent from the house mix to Cinamaker Capture.  Screen sharing from a local Mac and digital projector is used to bring Powerpoint slides into Cinamaker.
Multi-Angle Interviews
Cinamaker adapts to your needs. It's simple to place and connect iOS or digital cameras for optimal coverage of your live events.
For Education
Enlivened Learning
Online learning can be challenging. But with Cinamaker's simple interface you can switch between your lesson materials, camera angles, and other media to enliven the learning experience.
For Training, Podcasts & More
Multi-camera Instruction
They say "the devil is in the details. Whether is workouts, how-tos, detailed instruction, multiple angles can make the difference. With Cinamaker, add up to 4 iOS or digital cameras and give your audience the instruction they need.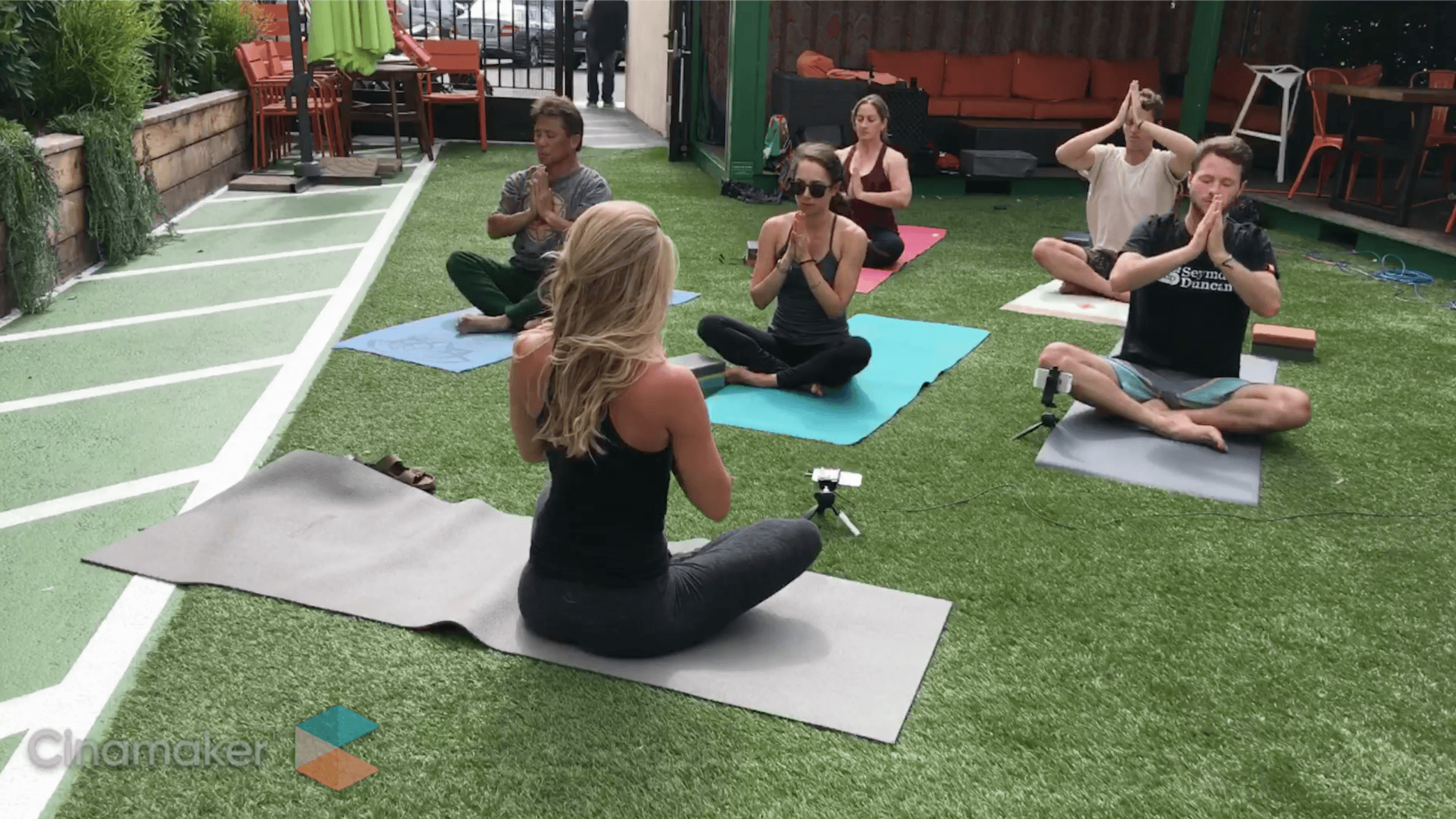 Making instructional Yoga videos is just one example of storytelling for emerging creators.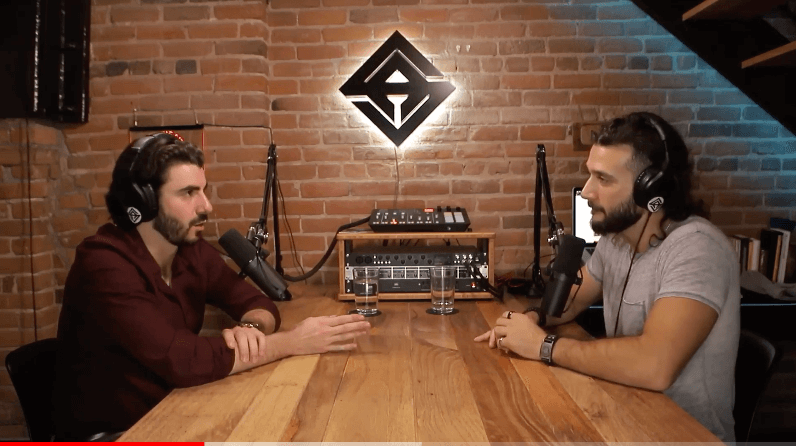 Video Podcasts
Video podcasts are becoming increasingly popular, and with Cinamaker you have a tool that gives you the power to live stream, record, edit, and promote your video podcasts.
Video Podcaster, Marc Angelo Coppola and Superhero Academy use Cinamaker to record and live-edit (or switch cameras) so that everything is edited and ready to post to the Superhero Academy YouTube channel immediately.
But Marc takes the power of Cinamaker further by using the in-app editor to refine his edits (camera-media-audio) while in playback. And what's more, creates short clips within the editor and uploads them as promos to his social channels. This is the power of Cinamaker!