Multi-camera Live Stream, Record, Edit
---
Produce Video Like a Pro With equipment you own
No Experience Necessary
---
Use your Mac or iPad plus iPhones and digital cameras to record and live stream like a pro. Go live on Facebook, YouTube, LinkedIn, Twitch and others. Output to Zoom and popular meeting platforms. Record and save countless hours editing with our mobile-easy in-app editor.

Use your Mac or your iPad to: 

Connect and Control up to 8 iOS Cameras and Digital Cameras
Live stream to Facebook, YouTube, LinkedIn and other platforms
Send feed to Zoom, MS Teams, WebEx other meeting platforms
Edit in In-App Editor, Final Cut Pro, Premiere, DaVinci Resolve
Easily add up to 3 remote guests or cameras with our Zoom integration
Stream and record Remote Guest interviews
And much more …
---
30-Day Money-back guarantee
---
Cinamaker Empowers You
Click a subject to see how we're connecting the world, one video at a time
ONLINE WORSHIP
Religious Services
Sundays are made for Cinamaker. Worship organizations around the world are using Cinamaker to get the Word out.
ELEVATE YOUR BRAND
Meetings & Webinars
Virtual meetings and webinars are enhanced with multiple camera angles, photos, video, graphics, and more. Enrich the experience of your attendees, while elevating your brand.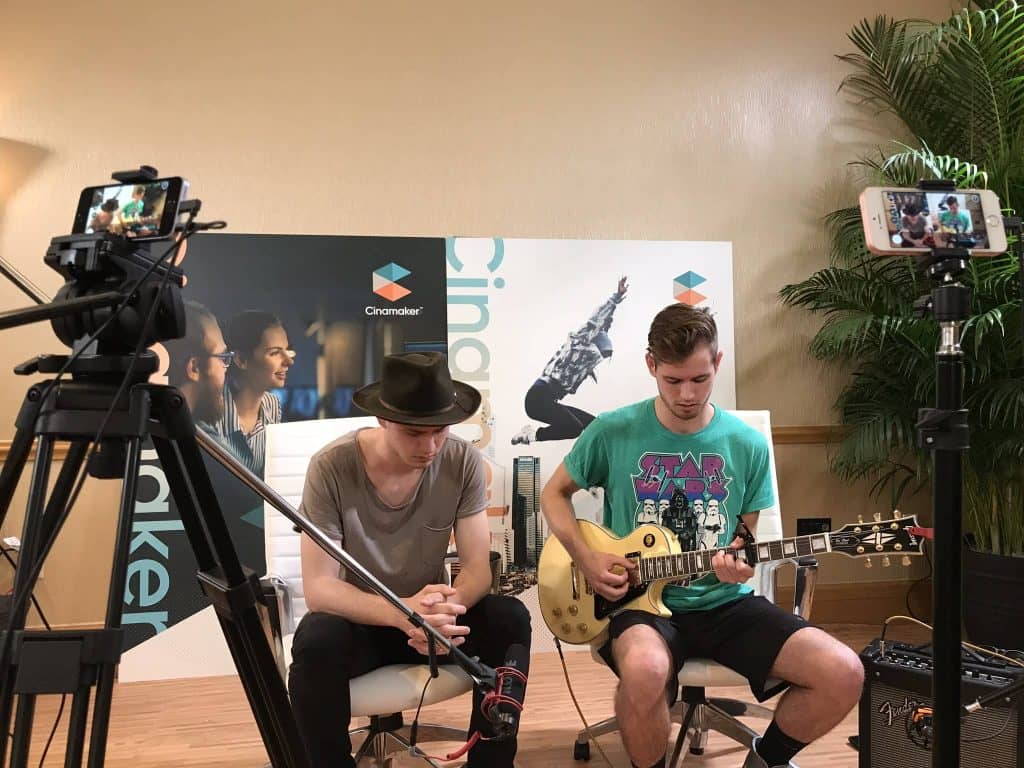 BEST FOOT FORWARD
Level-Up Your Production
With multiple audio inputs and camera angles, now you can perform from anywhere and give your fans the level of quality they have come to expect.
PROFESSIONAL LIVE
Multi-Angle Interviews
Cinamaker adapts to your needs. It's simple to place and connect iOS or digital cameras for optimal coverage of your live events.
INCREASE ENGAGEMENT
Enlivened Learning
Online learning can be challenging. But with Cinamaker's simple interface you can switch between your lesson materials, camera angles, and other media to enliven the learning experience.
For Instruction & Training
Multi-camera Instruction
They say "the devil is in the details. Whether is workouts, how-tos, detailed instruction, multiple angles can make the difference. With Cinamaker, add up to 4 iOS or digital cameras and give your audience the instruction they need.
Sign up: Free Cinamaker + Zoom Demo & Webinar – Live!
Join us for"Getting the Most From Zoom With Cinamaker" – a Live Demo and Q&A. See how easy it is to Output Cinamaker to Zoom, and include Remote Guests from Zoom with Cinamaker.
Sign up: Free Director Studio
Demo & Webinar – Live!
Video Creation made easy! Join us for a live Cinamaker Director Studio demo and see how simple it is to live stream, record, and edit with multiple cameras from your iPad or Mac.
Cinamaker Blog
How to start a hit podcast—even on a budget
Video podcasts are the most powerful way to build your brand—and can even earn you a nice income on the side. But getting started can be daunting. From buying the right equipment to creating content to managing guests, and keeping to a …
Create pro-level video podcasts using Zoom
Want to use Zoom to record video podcasts or webinars? Well, you can. But, you shouldn't just use Zoom on its own. Here's why. Zoom's designed for business meetings—so its picture and audio quality isn't the best (neither is its …
Why video podcasts are the fastest way to build your brand
Video podcasts are taking the world by storm. If you're looking to build your brand, there's no better platform for sharing stories, knowledge, and insights—and in return, growing a loyal fanbase. But because of their recent popularity …